Hama Beads Mario – Finding the right activities for your little ones to keep them happy on the weekends or during school holidays is not always easy.
But one of the best things you can do is think about the TV shows, characters, or games they are currently interested in and use that as a little bit of inspiration.
Super Mario is huge right now. Not just the games your little ones can play but there have been TV series and films they may also have enjoyed.
Kids of all ages love Super Mario, and these Hama bead templates are perfect for any fans out there.
Hama beads are a great option when looking for fun activities for your kids to do. They can sit and enjoy creating designs and using templates, such as these super mario ones, to create something fun.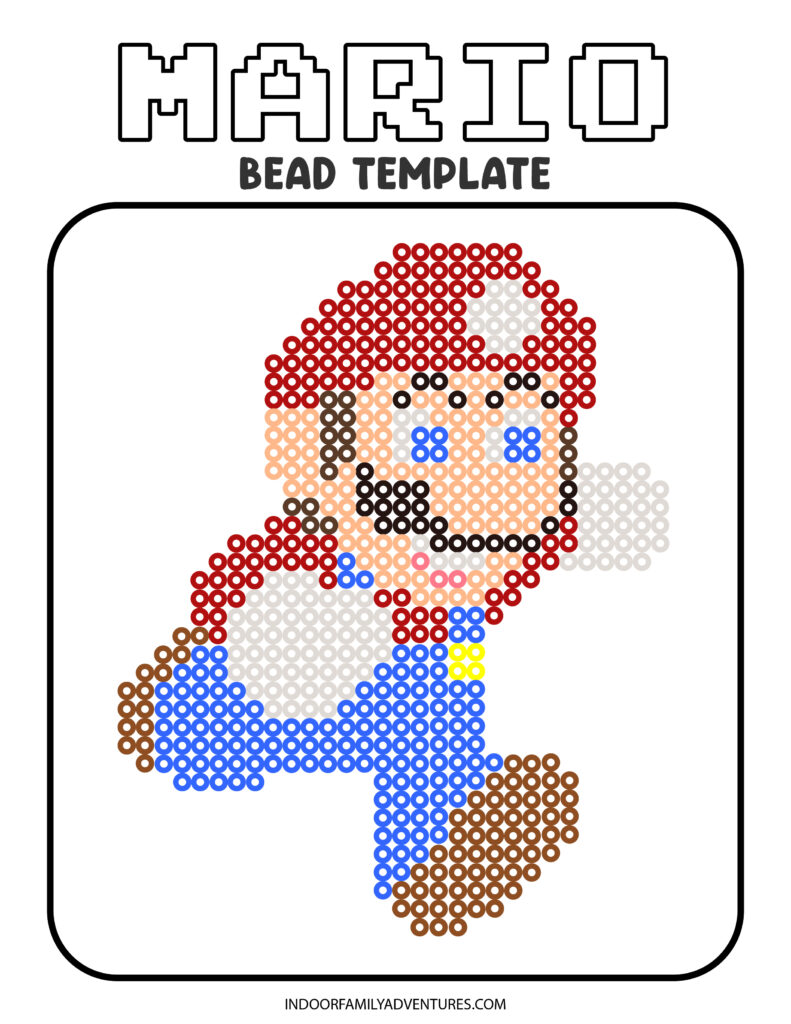 What are Hama Beads?
Hama Beads/Perler Beads/Fuse Beads are small beads that have a hollow centre. They can melt together and can be used to make some amazing designs and beautiful artwork.
They come in different sizes. A Midi, Mini and Maxi range. They are perfect for children of all ages but are recommended for 4-7 years olds.
They are also perfect for boys and girls and children with varying abilities. They are really easy to use and very beneficial in different ways.
A perfect activity for your kids during the weekends or school holidays.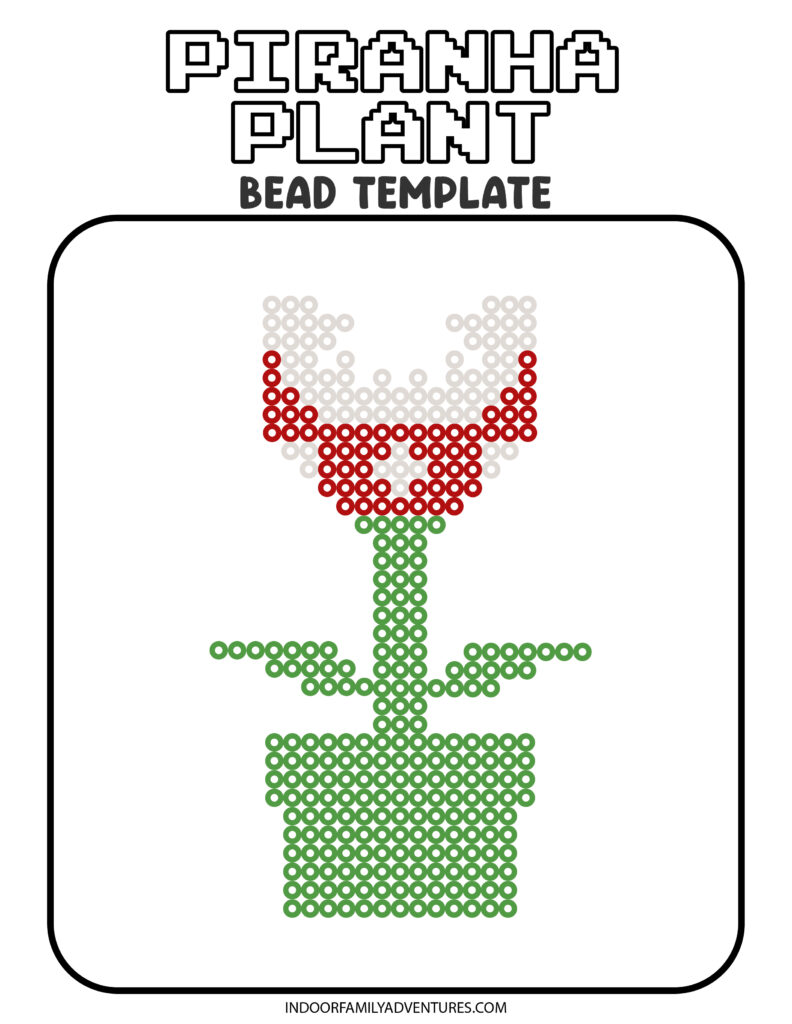 Why are Hama Beads Mario good for kids?
Younger children can get so many different benefits from using hama beads. Firstly, they can help with things like hand-eye coordination.
They are also perfect for fine motor skills and strengthening grips with their fingers. This is because they move the hama beads around and insert them onto the peg board.
As children grow, they can also be beneficial to help match up colours and shapes, as well as with counting. The options and benefits are endless.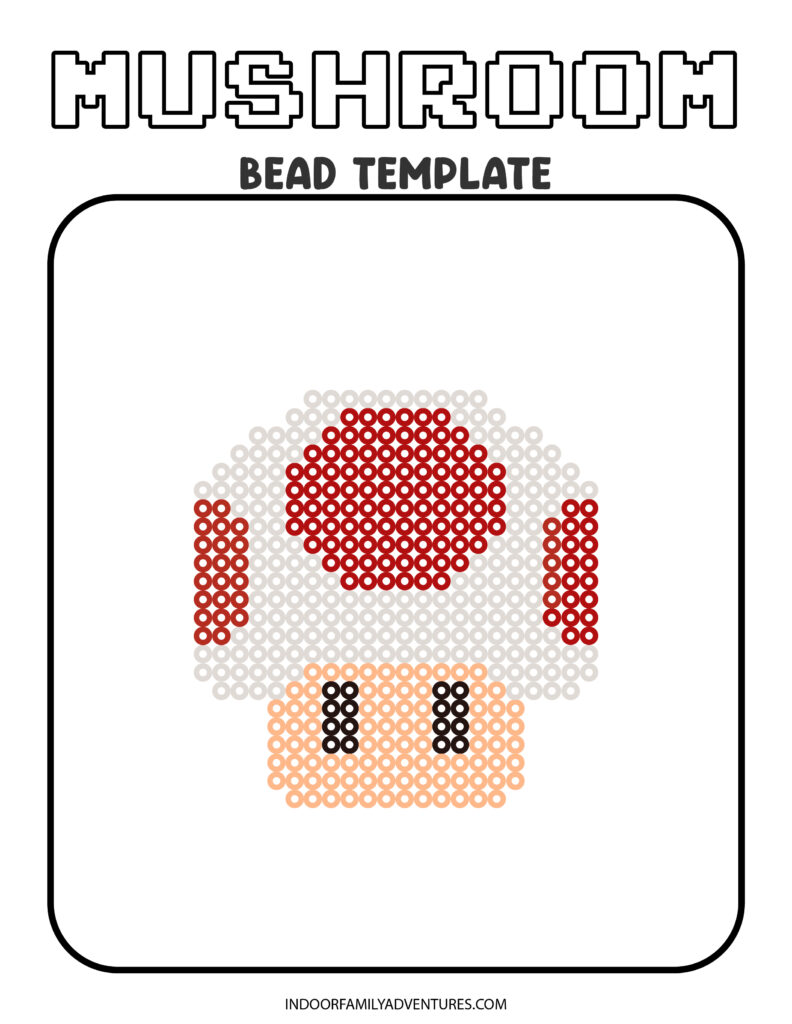 What do you need to enjoy these Mario Hama Bead Templates?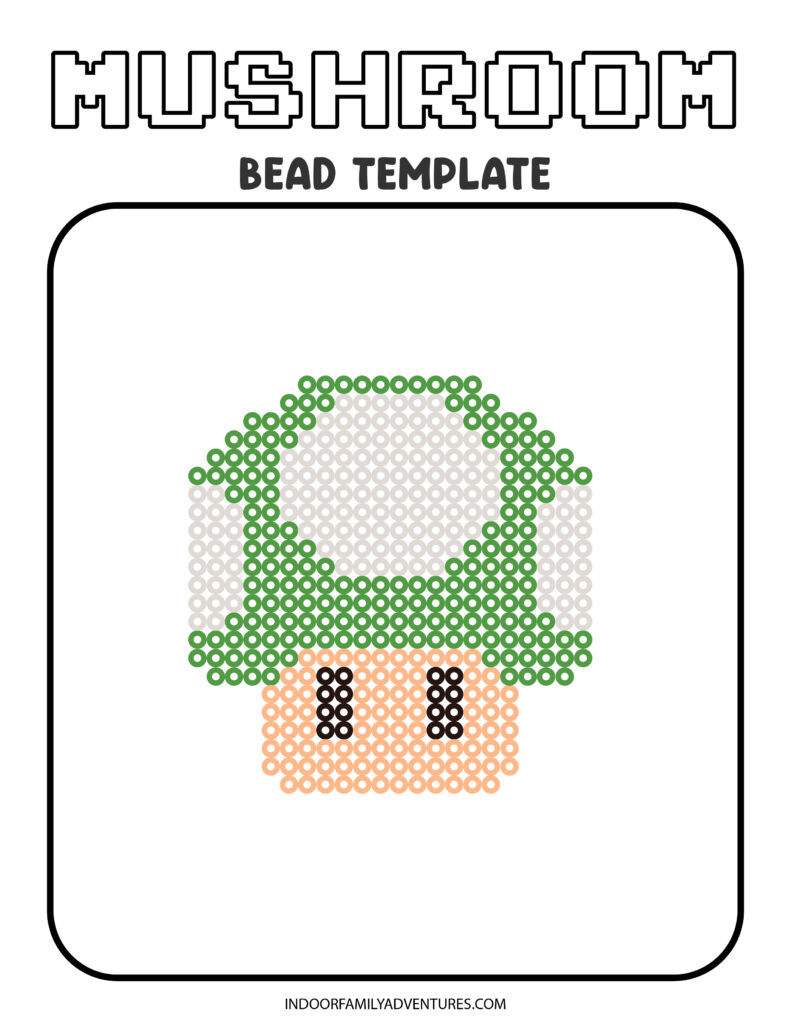 How to use Hama Beads?
If you have never used Hama Beads then you are in for a treat. They are such a great activity for children to enjoy.
You have your peg board and your beads, and then you can use various different templates to create some excellent designs.
Once you have finished the design, you can use ironing paper to or parchment paper if you don't have any, and iron over the beads.
This enables the beads to melt a little and stick to the sides to create a finished design that your children can display proudly.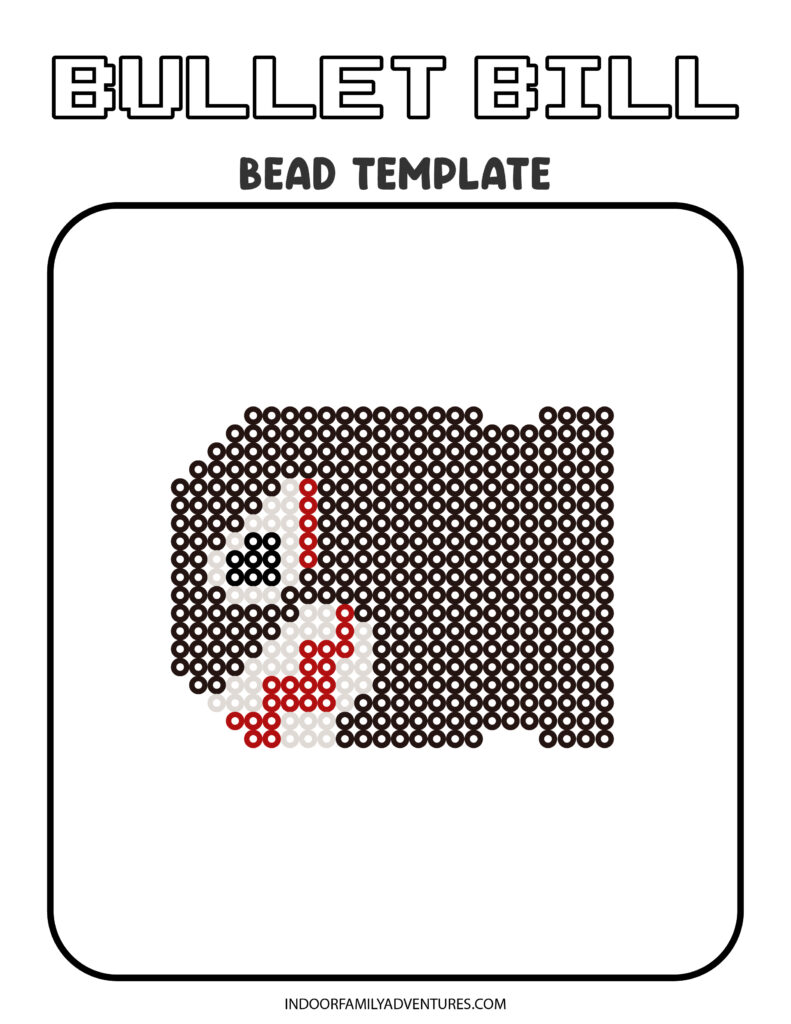 How to make the most out of these Super Mario Hama Bead Templates
Prep time – as long as it takes, there is no rush when it comes to crafts and activities.
Print out the chosen super mario hama bead template.
Place the peg board over the template so that your little ones will know where to place different colours.
Using the hama beads, add the right ones to the peg board so that you can create the chosen design.
You can then tip out the beads and start again, or if you are happy with your design and want to keep it you can use the reusable ironing paper and iron over the beads. This will stick them together and finish your chosen design.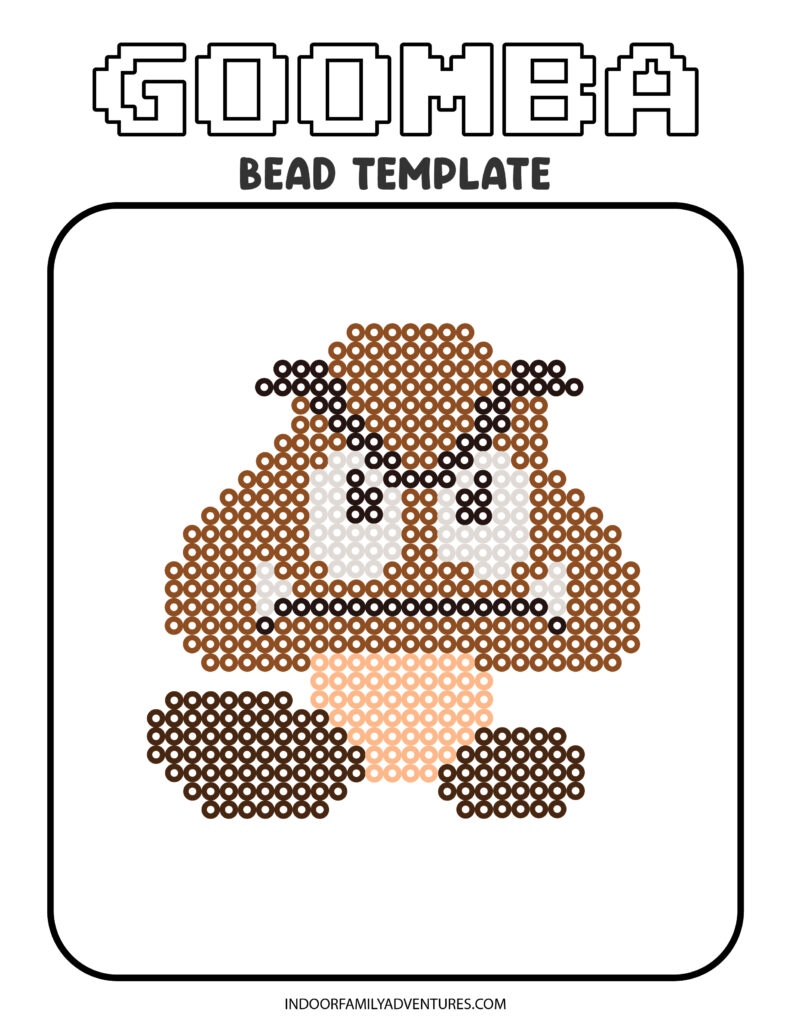 What templates are available to download
There are 10 Super Mario-themed Hama beads templates for you and your children to choose from. They are:
Mario
Pirana Plant
Mushroom (Red)
Mushroom (Green)
Bullet Bill
Goomba
Koopa
Cheep-Cheep
Shy Guy
Superstar
Mario Bead Patterns Notes and tips
A craft is always a perfect opportunity to spend some time with your children, or even just to occupy them so that they aren't always going to technology to feel stimulated.
However, while it may be a simple craft process to follow, it is always advisable to take on some extra notes and tips to get the most out of it.
Make sure younger children are supervised when using the beads as they can be seen as choking hazards.
Set out some of the colours you need first to help younger children identify where to put the beads.
Use the peg board to keep the beads in place or place them directly onto the template if you don't want to iron them together.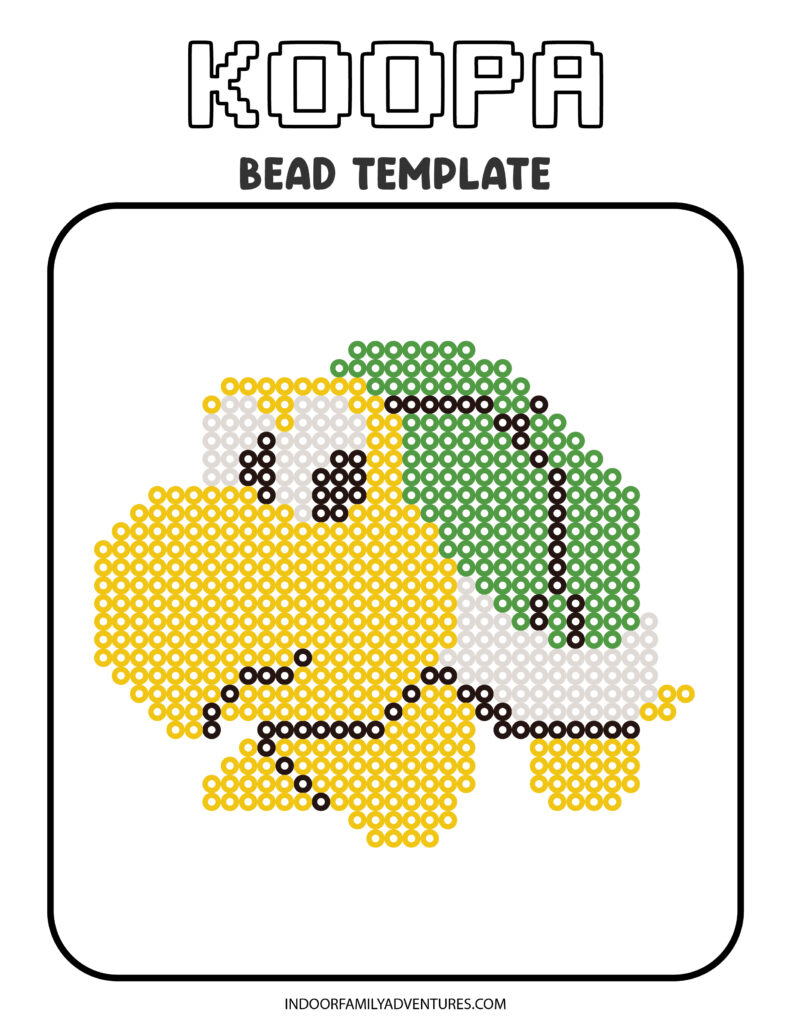 Variations to try
Like with any craft, the beauty is how you adapt it to suit you and if you don't have some of the things that you need suggested above, then varying it is a great way to enjoy this craft. Here are some ideas:
If you don't have any hama beads then you can still make some amazing creations using these templates. Why not use coloured pieces of paper that you can glue together? Or roll up little bits of tissue paper and stick them together to make a picture?
You can follow the templates using other beads like Aqua beads, Perler Beads. Follow the template and then make your designs.
Use the templates as inspiration for drawing. You can follow the designs to make something really creative. Then colour in your pictures with crayons, felt tips, or paints.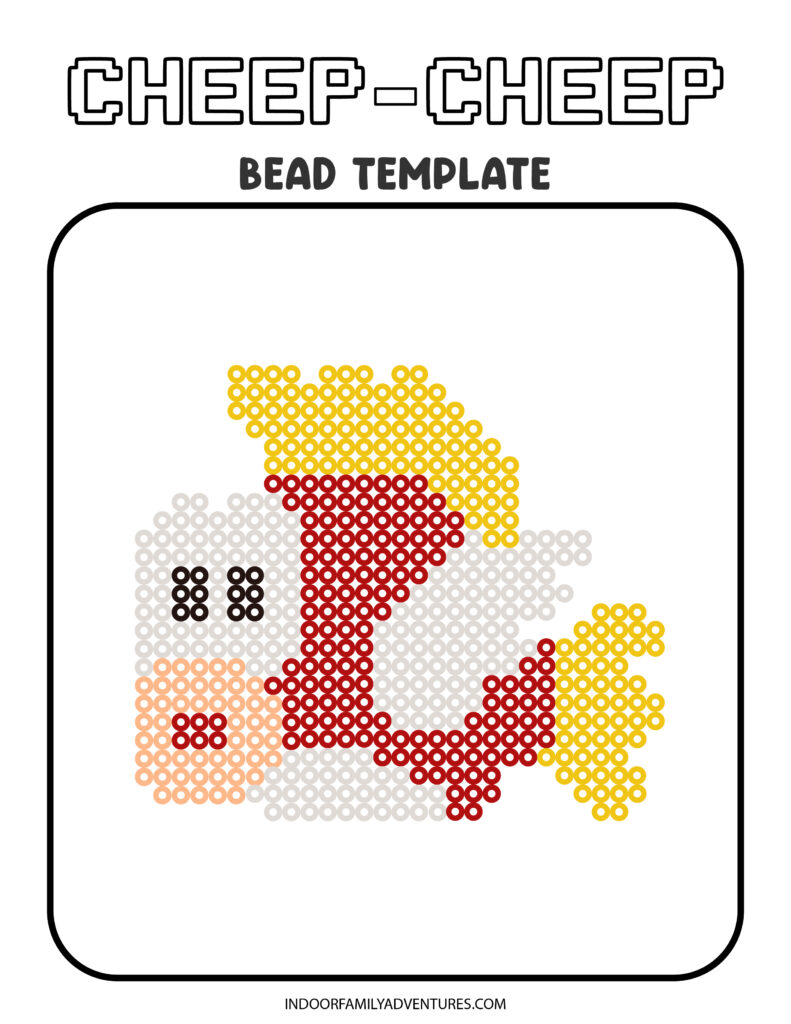 FAQs
We all have questions that we may need answering so here are a couple to help you.
What age range are Hama beads appropriate for?
Hama beads are usually promoted as being suitable for children aged between 4 and 7 years old. However, younger children can use the beads supervised and an adult can help with ironing the designs together. Older children may also enjoy this as a therapeutic and relaxing exercise. Much like colouring can be.
Are there any dangers to consider?
Hama beads are small and can be seen as choking hazards. So it is always advisable to make sure that younger children are supervised when using them. An adult might need to take over when you are using the ironing paper or parchment paper to iron the hama beads together.
Hopefully, this will have encouraged you to give one of these Super Mario Hama Beads templates a try.